Edgerton Adds Drama to Stage Makeup
Hang on for a minute...we're trying to find some more stories you might like.
Have you ever watched an older horror film and been unable to take it seriously because it looks fake? Luckily for the TWHS theatre Department, Grace Edgerton's work is as realistic as it comes. 
Edgerton specializes in special effects makeup, the process of using prosthetic sculpting, molding and casting techniques to create an advanced cosmetic effect.
Edgerton posted an Instagram picture on July 9, 2015 of her with a bloody pencil in her nose with a caption saying "SFX makeup look inspired by @elimacssfx," As the year continued, Edgerton continued to post pictures of makeup, including a picture of a bloody gunshot wound on her forehead, a picture of her hands with blisters, another picture of Maddie Edgerton with trypophobia on both of her cheeks and forehead, a happy Halloween post with a skeleton drawn on her mouth, a Chelsea smile, and finally Edgerton posted a picture of exploded hands.  
On Dec. 23, Edgerton posted a picture of exploded hands in her caption she stated "Not my best work, but this is an exploded hand makeup look #sfxmakeup (btw, does anyone think it would be cool to make a different account just for makeup? That way those posts won't show up on this account for some viewers that are sensitive." Comments exploded with positive feedback.
A few months later on Feb 6, Edgerton posted a picture on her makeup account (makeuponedge,) saying "Hey guys, thanks for following! I ended up making this account so I could post all makeup looks here and only the people interested can see them. I also made this account in hopes that I can get better and document my improvement along the way. I hope you guys enjoy all that I have to post and feedback is always appreciated. This is a look I did not too long ago of an exploded face." 
On March 14 Edgerton had the opportunity to draw tattoos for a theater production at TWHS. On June 18 Edgerton posted a picture of her with rainbow tears coming out of her eyes and rainbow splatter paint on her neck. In her caption, she stated "I know this may be a little late, but I had to do it anyway. This makeup is for Orlando and gay pride in general because I stand with them The beautiful thing about makeup is that you can use it to express any feelings you may have and there are no limits to it, so this is what I did."
Artists are often inspired by a certain thing. Some get inspiration from pictures or videos. Or some artists are inspired by people.
When asked what inspires Grace and what got her into SFX makeup she said "I decided to look up a bunch of Youtube videos and subscribed to some makeup artists and ever since then I've watched and learned everything I know from Youtube and Instagram. I follow a girl on Instagram named Nerrisa Koklamanis who went to Thomas Worthington. Her makeup is amazing and she's so young too." 
Also, every human being in their life has some type of goal. Whether it's to lose a certain amount of weight or more often than not high-schoolers want a certain grade for a class. Some students want to get into a certain school or have a dream job.
Edgerton's goals and uses for her account are " I hope that others use my account for inspiration and can follow me on my road to improvement. My account is used for documenting my makeup looks and being able to see how far I've come."
During spring break, Grace and I got together to spread awareness about domestic violence. Grace used special effects makeup to make a bruised eye, forehead, and a bruised bloody lip. That was very interesting watching her put everything together. When she finished I had the chance to take pictures of her!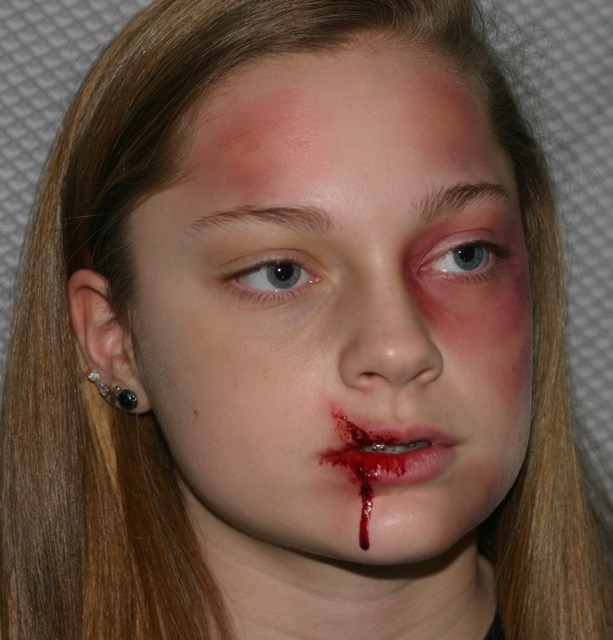 Anyone can get started into special effects makeup if you have access to Youtube and the right tools you can create awesome looks! Remember to be patient it takes time and practice!