Announcements for Friday September 22, 2017
Hang on for a minute...we're trying to find some more stories you might like.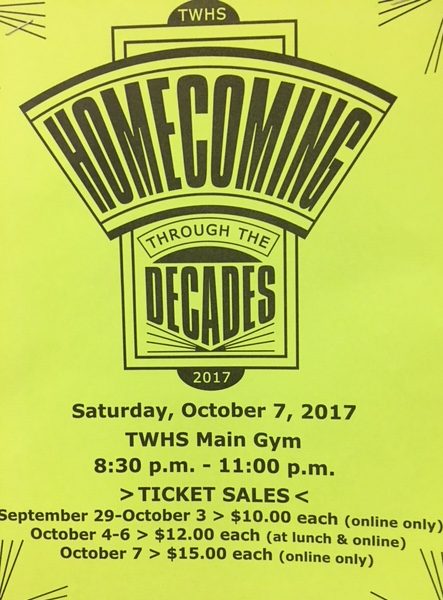 Homecoming is almost here! Tickets go on sale online next Friday, 9/29, for $10!
Don't forget to nominate individuals to Homecoming Court! Head to your Graduating Class' Google Classroom to nominate someone for Homecoming Attendant and Queen and King.
Chess Club will meet Today in Room 283 after school until 4:30 for game play and fun. Come and join the club if you've always wanted to learn to play and have fun at the same time. All skill levels are encouraged to come.
Reminder students that the annual Suburban College Fair will be held this Sunday, Sept. 24th from 1-3:30pm at the Rike Center located at Otterbein University. Please come out to visit with over 100 universities & colleges reps!
If you're interested in being a part of the Hispanic heritage month assembly. Please stop by Today after school at the library. Meeting will only take 10 minutes.
The TWHS School Counselors invite you to attend the presentation, "Student Financial Aid: What You Need to Know"on Wednesday, September 27, 2017 from 6:30 to 7:30 p.m. in the TWHS auditorium.Matt Moreau, senior financial specialist from The Ohio State University, will present information to you on how to: reduce your cost of attending college, types of financial aid, how to apply for aid and completing the FAFSA. Please plan on attending this important meeting with a parent! Questions, please see Mr. Quart in the School Counseling office.
All students interested in starting a Drug-Free School group or participating in One Leg At A Time please meet with Mrs. Maynard and Ms. Povisil Tuesday September 26, 2017 at 3:15 pm in Guidance. We will discuss upcoming events and opportunities for student involvement
Please announce this starting 9/20/2017-9/26/17.
Attention Freshman! If you are interested in being a part of the Theatre this year considering signing up for FRESHMAN SHOWCASE! There is a sign up on the door of the Cardinal Theatre (room 194). Please sign up by today the 22nd. If you have any questions please see Mr. Nawman.
If you are thespian, or future thespian the 2017-18 theatre shirts are in! They are $15 and we have a full size run! Come see Mr. Nawman and get one to support the theatre program!