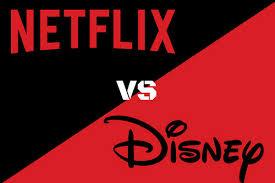 https://www.flickr.com/photos/[email protected]/35939992403
Netflix Has Lost Their Contract With Disney
Netflix is struggling because of lost contracts and large competitors, allowing for a potential drop in quality and quantity.  The amount of other online streaming services have increased significantly in the last few years. Major competitors, Amazon Prime and Hulu, are giving Netflix a run for its money. Now, Disney is looking to be independent of Netflix and start their own streaming service as well.
"Disney had a good relationship with Netflix, but decided to exercise an option to move its content from the platform," Robert Iger, Chief Executive of Walt Disney said.
When the contract between Disney and Netflix expires in 2019, all Pixar, Marvel, and Star Wars movies will be removed from the streaming service.
Despite all of this, the loss of Disney will not be the end of Netflix. According to The Street, only 20% of users watch Disney more than 10% of the time. The problem is the debt that the company is already in, and how they are planning to continue spending.
Netflix is a popular company. If they can't make a comeback, quality and variety may drop. Users might start pouring their money into other streaming services, leaving Netflix in the dust.
Chief of Content for Netflix, Ted Sarandos said that because of this, Netflix started putting money towards original content back in 2015."Netflix knew there would be fallout from studios like Disney and Fox, who began pulling its shows from the service earlier this year."