Dressing for Suc(sexual) Harassment?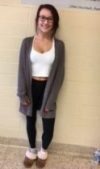 Aly Raisman, a champion Olympic gymnast, came forward about being sexually harassed by her doctor during the Olympics because of the way she was dressed. Later that day, after telling her story, she tweeted that women have the right to be "sexy and comfortable in their own skin" without being harassed by men. Sexual harassment is a hot-button topic these days, yet it keeps happening. Sexual harassment is defined as any harassment (typically of a woman) in a workplace, or other professional or social situation, involving the making of unwanted sexual advances or obscene remarks. A woman should be able to dress however she wants without being sexually harassed. There is a fine line between complimenting a woman and harassing someone.
We asked students and teachers in our school if they have ever been sexually harassed because of how they dressed. Erica Unrue, a high school senior, said "No, because I dress very conservative. I think a lot of women do when expressing themselves." Emma Ruiz, an English teacher from Thomas Worthington, said,"I intentionally dress modestly so my body is not on display. I also don't wear tight clothing so that I don't have to deal with remarks."
Grace Kelly, another senior from Thomas Worthington, and an employee at a local clothing store, stated, "A customer that came into my work would come find me, hug me and try to talk to me, however, I have never met him anywhere other than work. I feel like because employees are supposed to wear stuff that shows off our body that boys, in particular, think its okay to be more touchy-feely, which isn't okay. I actually had to talk to my manager about it because I felt so uncomfortable."
As a result of people being more open about sexual harassment that has happened to them, sexual harassment is becoming a more obvious problem than it ever has before. Girls should be able to express themselves through what they wear without being sexually targeted. Senior Haleigh Blanchard "I will continue to dress however I want as long as I feel comfortable in my own skin".