TWHS's New Athletic Director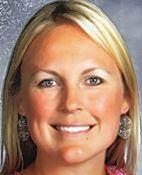 Tripp Massey
January 22, 2018
Hang on for a minute...we're trying to find some more stories you might like.
Jennifer Goebbel, 37, was named the new athletic director of Thomas Worthington on June 26, 2018. She is replacing Scott Dorne who went to Westerville City Schools to work as executive director of facilities and operations. Under his term, the girls field hockey team won two state championship. Goebbel has continued the legacy with 2 state championships earned by the boys water polo team and the girls field hockey team for a third year.
Goebbel grew up in Worthington playing soccer and basketball. She says that basketball was her favorite but had more opportunities to play soccer. She would use those opportunities to play D2 soccer at Rollins College in Winter Park, Florida. She would go there with a soccer scholarship and would graduate with a bachelor's degree in sociology from Rollins. Her master's degree was in Education Administration from Ohio University. She has always been interested with high school sports.
I had a Q&A session with her via email:
Q:Where are you from?
     A: Worthington, Ohio
Q: What sports have you played throughout your life?
     A: Soccer and basketball
Q: What have been your favorites?
A: Basketball was hands down, my favorite but I had better opportunities to play soccer in college so soccer is the sport I spent my career playing and then coaching.
Q: What college did you attend?
A: Rollins College in Winter Park, Fl. It is a private D2 school and it was awesome, and also very hard. I missed my family terribly when I was away, but going out of state to college was the best thing I ever did for myself.
Q: Did you play sports there?
A: Yes, I had a soccer scholarship and that is how I got to attend. Otherwise there is no way I could have afforded to go to such an expensive school.
Q: What made you want to be an athletic director?
A: I have always had a passion for interscholastic (high school) sports. I think there is something so special about playing with your friends and representing your school and your community. I also am incredibly grateful that I had such a positive high school athletic experience because it is ultimately how I was able to go to college. Being our athletic director means that I get to work tirelessly to make sure our student athletes have the best possible experience while playing sports at TWHS. It also means I have to do a bunch of other stuff I don't necessarily love, but #itsworthit. 
Q: Tell me about being a female athletic director in an historically male field?
A: This is an excellent question. There are only 3 female ADs in the OCC. That means the other 29 are men. Athletic administration might be one of the last so-called boys clubs that exist professionally. I hope that taking on this role at our school sets an example to other female athletes that there are professional opportunities that involve sports after high school and college and that women can absolutely do this job and do it well. I also have to say, my male colleagues in the OCC have been fantastic and I am especially grateful to work with Mr. Todd over at Worthington Kilbourne. He has been tremendously helpful to me and is someone I consider to be a friend.
Q: What long term goals do you see for twhs athletics and what short term goals?
A: Long term: We have some challenges with space constraints in our hall of fame. I am actively working on a new plan in the athletic lobby to honor our state champions.
Short term: I have worked very hard this year to improve our school culture and school spirit when it comes to athletics. I think that is something that you have to work at as a school and student leader. The "We Are TW" shirts and changes to the pep rally format are just two examples.
Q: What's your take on drug testing athletics at twhs?
A: My job is to enforce the ATOD policy so my opinion doesn't really matter. But I am personally in favor of randomly drug testing athletes. Participation is a privilege. Period.
Q: To what do you attribute the success of the women's field hockey team?
A: The success of the field hockey program is a testimony to the success that comes with a having a head coach who has built a culture of high expectations and success. Terri Simonetti-Frost is one of the best high school coaches in the country–in any sport.
Q: Do you see any facility upgrades in the future?
A: I have designed a new field house in my mind that I can't wait to see become a reality. I can picture every detail of it!