What to Know About the Midterm Elections: Before You Cast Your Vote!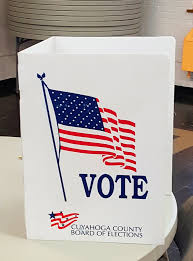 Hang on for a minute...we're trying to find some more stories you might like.
The November 6th midterm election is quickly approaching. There are many toss-ups and controversial races occurring across the nation. This matters because it sets the tone for the next two years in the presidential administration. Here is what you need to know:
Currently, both houses of Congress are controlled by the Republicans. The House of Representatives has all 435 seats up for grabs. In order for Democrats to control the House, they must have a net gain of at least 23 seats (ABC). In the Senate, only 35 seats are up for election. Democrats would only need a net gain of 2 seats to win over the Senate. The House appears to lean in favor of the Democrats (Politico), and there is an 83% likelihood (TIME). The Senate, however, will likely remain Republican.
Many voters see the midterms as a way to show approval or dissent for the current administration. In Ohio, the races are expected to be tight. In the House, the two candidates are Danny O'Connor (D) and Troy Balderson (R). Balderson was elected 50 to 49 percent in the special election in August. The vote is expected to lean Republican (Politico). As for the Senate, Sherrod Brown (D) is running against Jim Renacci (R). The vote is likely democrat. For governor, however, it is quite a toss-up with Richard Cordray running Democrat and Mike DeWine running Republican.
Outside of Ohio, there are many toss-up elections, some of which are threatening to the current administration. In Texas, for example, Democrat Beto O'Rourke has stayed level with his competitor, Republican Ted Cruz. Texas is historically a red state, so the fact that O'Rourke is holding his ground is frightening for Trump's administration. Trump has been traveling across the country to endorse Republican candidates, as to prevent Democrats from regaining control of the House.
If you are unable to visit your polling station on November 6, request an absentee ballot and send it back by mail. There has been a history of poll workers turning away voters, but federal law ensures that a provisional ballot can be requested. Every citizen over the age of 18 deserves the right to vote, and should use their power! Make sure to use your voice on November 6.