Washington Post Journalist Brutally Dismembered in Saudi Arabia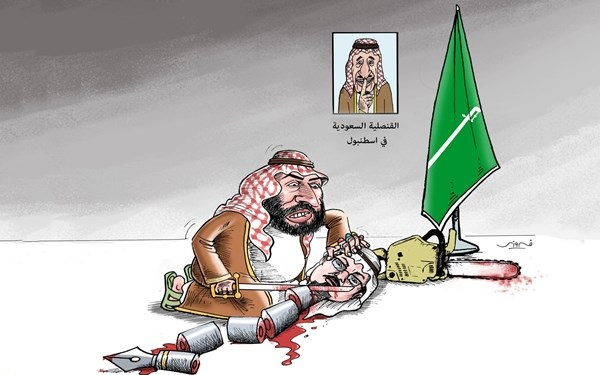 Hang on for a minute...we're trying to find some more stories you might like.
Jamal Khashoggi—a Saudi Arabian critic, US resident, and Washington Post columnist— entered a consulate in Istanbul to pick up certifying he had divorced his previous wife so that he could remarry. Khashoggi was strangled upon entering the building and dismembered as a part of a premeditated plan. His body is still missing. The murder is suspected to have been directed by high ranking officials within the Saudi Arabian government (Aljazeera).
The Turkish government claims to have evidence that Saudi operatives conducted the brutal murder. The same day that Khashoggi is believed to have been killed, a Saudi agent was seen leaving in his clothing. In an attempt to cover-up the murder, the agent, Mustafa Madani, who is of similar height, age and build to Khashoggi, was used as a decoy for the journalist, according to a Turkish official (CNN).
The week following Khashoggi's disappearance and death the Saudi Arabian government had changed their version of the events multiple times. They had maintained for days that Khashoggi had left the consulate alive on October 2. The journalist's fiancee, who was waiting outside the consulate's front entrance and raised the alarm when he didn't return, was told by a Saudi consulate guard that he may have exited the building through the back door. On October 19, the Saudi Arabian government admitted that Khashoggi was killed in a fist fight in the consulate (BBC).
In response to skepticism about Saudi Arabia's involvement in Khashoggi's murder, on October 31, Saudi Arabia Foreign Minister Adel al-Jubeir claimed the killing of journalist Jamal Khashoggi was a "tremendous mistake" and part of a rogue operation. He added that his government would punish those responsible for Khashoggi's murder (CNN). During this interview, he also released the specifics of Khashoggi's murder including the facts that he was strangled and dismembered as a part of a premeditated plan.
President Trump has been reluctant to enforce significant pressure on Saudi Arabia or Turkey to investigate the murder and supply answers (Business Insider). He has claimed that relations with Saudi Arabia are "excellent" other than in relation to Khashoggi's death. In an interview with Fox News on October 10, the president was unable to guarantee repercussions against the Saudis, especially in terms of US arms sales to the country, if it is proved that they harmed Khashoggi.