TWHS Teacher Addresses Mental Health in the Classroom
April 19, 2023
Thomas Worthington High School teacher, Sarah Ward, dedicates time to mental health awareness in her classroom. She's made a shift towards practicing safe and positive methods to keep students' mental health in stable condition. Over the past three years, Ward has begun the practice of monthly mental health days with her students. After the pandemic, she wanted to ensure her students were comfortable. She began spending full days across all her classes helping students relax and calm their minds.
"I think that mental health is always a struggle for students in high school. I think the nice thing now is that more people are talking about it," Ward said.
Ward has been a teacher for eleven years now. She's spent most of her time teaching students life skills through high school classes such as Independent Living, Food for Fitness, and Child Development. Since Ward teaches many life skill classes, she had to adapt during the pandemic to what she felt was most important.
"When we stopped coming to school I kind of shifted focus from teaching my content to making sure that everybody was okay" Ward said.
Before, she was doing simple mid-week check-ins with her students via sheets of paper. These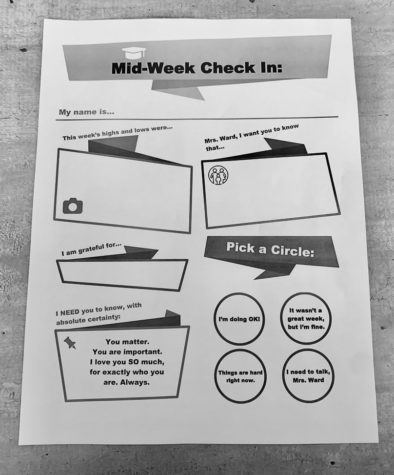 included simple questions that got students thinking about their mental health. Questions on midweek check-ins include those like "What are your highs and lows this week?", "What are you grateful for?", and "What's something you want me to know?". There's also the "pick a circle" section where students shade in the bubble that matches how they're feeling in the current week. Bubbles include "I'm doing OK!," "It wasn't a great week but I'm fine," "Things are hard right now," and "I need to talk to Mrs. Ward". If a student marks the "I need to talk to Mrs. Ward" bubble then Mrs. Ward will make the effort to speak with that student by the end of the school day.
"My assignments were very mental health focused regardless of what class you were in, so it was like, let's learn about anxiety and how we can deal with that, and here's some coping skills," Ward said. "And students really liked that, like really liked that. And so there's definitely a need for more emphasis on mental health".
After Covid slowed down, she took a trauma yoga class and began teaching stretches to her students. Ward also personally purchased yoga mats and blankets to support their practice. On mental health days, she moves all the desks out of the way, and lays out the blankets and mats to allow her students to stretch and meditate. They do different breathing exercises and try to focus on different themes, such as anxiety or depression. Gratitude was a main Ward focused mostly on gratitude as her form of keeping positive mental health.
"I found that gratitude has been very helpful, brain research actually shows that gratitude actually changes the wiring in your brain. You start to look for things in your day to be grateful for instead of looking for things that are upsetting," Ward said.
She recommends that students do this as one of their methods for improving their health. She also recommended simple breathing exercises, giving yourself silent time to think, as well as dedicated time to talk to others.
"Keeping a little gratitude journal is good, definitely meditating, taking time to sit and breath is really important. And also talking about things, I feel like we really underestimate the power of talking to someone even if you don't have a solution," said Ward.
Ward also practices these strategies herself in order to keep her mental health in check. Ward's caring attitude towards her students is a prime example of what a student wants in a relationship with their teacher.
"The mental health days help sometimes," Ronnie Carpenter, a TWHS senior said. " It's nice that she actually cares."