Top Picks for Clicks: Columbus's Best Spots for A Quick Photoshoot
February 22, 2023
Columbus is a beautiful city with tons of things to do and places to go. Within and around the city there are countless nature gardens, hiking trails, and picturesque streets that make for some really awesome photos, and with a little bit of driving, you can find some truly unique views. Even though finding spots to take photos can sometimes be a struggle, especially during the recent gloomy winter weather, there are still great places to snap some photos regardless of the weather. Even areas in downtown Columbus are filled with amazing architecture hidden right in front of us.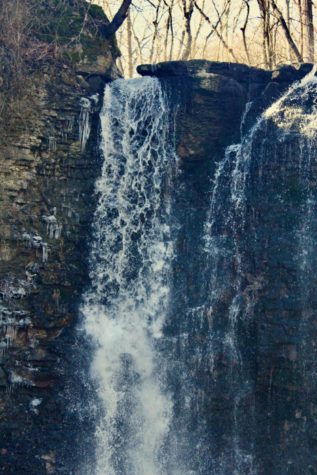 Whether it's trails, waterfalls, or beautiful gardens, the city metro parks offer some amazing and photogenic sceneries that are scattered around Columbus. Along the Scioto River, there are a number of waterfalls with beautiful forest views alongside them. On the North end of the Scioto, you will find Indian Run Falls. This stretch of small waterfalls is tucked inside a creek lined by cliff faces and shale beaches. While these falls are not the largest falls in Columbus, the scenery around them makes up for their small size. The trail that wraps around the creek, connected by two bridges, has some lookout points and stairs leading down to the creek that allows for some easy, safe, and really cool photos.
Though it's not the biggest park, Hayden Run Falls is home to an amazingly majestic waterfall. The waterfall is surrounded by trees and a boardwalk leading up to the falls. Even though it's winter, this waterfall provides amazing photo opportunities, especially with the icicles formed on the cliff giving a winter wonderland feel to the park. The water falls down a limestone cliff face into an almost teal pool, lined with rocks and shells. The pool below creates a cave-like area that echoes the sound of the falls throughout the woods nearby. Many come here for the photogenic falls but stay for the calm atmosphere.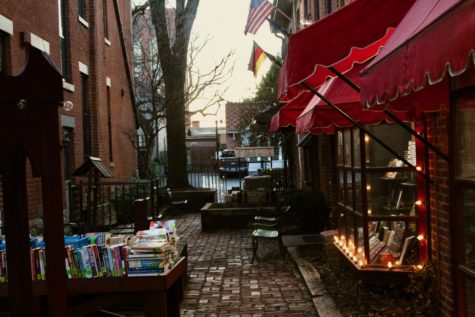 Tucked inside downtown Columbus is the bustling community of German Village. With beautiful streets of
brick and small quaint alleyways, German Village is home to many shops and German restaurants. You can start your photography at a small hidden gem, The Book Loft. This cozy bookstore offers an aesthetic scenery with tables of books inside and outside. The store window is lined with yellow fairy lights which add to the warmth and beauty that German Village brings. Take a journey down East Kossuth Street to continue your photography adventure as you admire the beautiful homes and businesses lining the street. Just a short drive away is Schiller Park, which offers more amazing scenes around the pond and gazebo.
The city of Columbus offers some amazing and unique views, and the photo opportunities are great if you know where to look. Waterfalls, quaint towns, and pretty parks make up just a part of these fantastic opportunities.