How the Cookie CRUMBL(s)
March 13, 2023
Crumbl Cookie is known year-round for its massive cookies and flavors, but this Valentine's Day, Crumbl Cookies released 3 new seasonal flavors. Crumbl Cookie generally rotates its specialty flavors weekly: Valentine's flavors include Valentine's Confetti, Original (featuring M&M candies), and Chocolate-Covered Strawberry, as well as a new seasonal flavor, New York Cheesecake. All of these flavors were tried and given honest ratings, praise, and criticism. Our scores are added together and averaged to fairly represent each of our opinions. Without further ado, here's how the Valentine's Day roster lines up.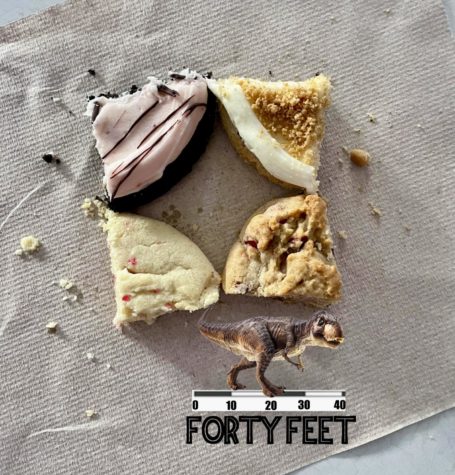 First, the Valentine's Confetti cookie: the base of the cookie was a simple sugar cookie with pink and red sprinkles. We thought it was a little undercooked on the inside. In contrast, it was quite dry and crumbly on the outside (no pun intended).  The cookie was still enjoyable and received an on par rating from us, with all of us willing to get it again. The Valentine's Confetti receives a 6.2 out of 10. 
After taking a dive into the Valentine's Confetti cookie, our next endeavor was the Chocolate-Covered

Strawberry cookie. This cookie – featuring a soft, chocolate inside with thick strawberry icing on top – was a certain improvement from the last cookie. The two flavors amalgamate and coexist beautifully, providing a nice balance – in contrast to actual chocolate-covered strawberries, where the chocolate flavor often monopolizes the taste. Cumulatively receiving a well-deserved 8 out of 10, this was far and away the favorite of the four cookies we taste-tested. Next, we tried the New York Cheesecake, scoring a 7.7/10: the runner-up. It has a graham cracker cookie base which is light but also rich with flavor. It was topped with cream cheese frosting with crumbled graham crackers on top.
"I hate cheesecake," says Oscar frequently, but even he enjoyed this new seasonal cookie.
Although the cream cheese is generally overpowering in cheesecake, this cookie was able to pair these two flavors together nicely. The bitterness of the cream cheese compliments the sweet and familiar flavor of the graham cracker.
Finally, we enjoyed the Original cookie (featuring M&M candies). The original flavor consistently makes its way into the weekly lineup, but this time it has the added twist of red Valentine's M&M chunks. This cookie received a 7.1 out of 10, falling a little short of the Chocolate-Covered Strawberry and the NY Cheesecake. The outside was slightly stiff and overcooked, while the inside was conversely doughy. However, most Crumbl cookies tend to be slightly undercooked, so it is negligible. Overall, it received a respectable bronze medal.
Crumbl's Valentine's Day catalog proved to be a welcome surprise for our seasonal review. We encourage you to make a visit for yourself and give the new docket of cookies a try.