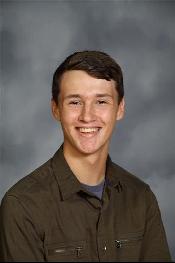 Ben Lufkin is a Senior at Thomas Worthington High School. He was born in Marion, Ohio, and has lived in Worthington for 14 years. Ben is the youngest of 4 boys, Andrew being the oldest at 24, Lowell being 22 and Nathan being 20. His family also has two cats and some fish. When he was three, his parents got divorced. Ben is a Christian and has been since he was young. He goes to church with his mother. His parents have lived in several different states before meeting in Michigan and then moving back to Ohio, where they had both gone to high school.
Ben plays the trombone and was in marching band for 3 years. Some of his interests would include politics, fishing and fishkeeping.
Fishkeeping is a popular hobby, concerned with keeping fish in a home aquarium or garden pond.
As of right now, Ben works at City Barbeque and has been working there since 2016.
Ben would say that his high school life was definitely not what he expected. Going into high school, Ben didn't really have any expectations, but it just felt disillusioned to him. He was an introverted person, but also at the same time an extroverted person in high school.
Looking into the future, Ben plans to take a year off from school, so he can decide what he wants to do, but he may decide to join the Marine Corps. However, whatever Ben chooses to do in the future will definitely bring out his full potential and he will be able to do great things.
Benjamin Lufkin, Writer