Worthington Welcomes Envoys From Japan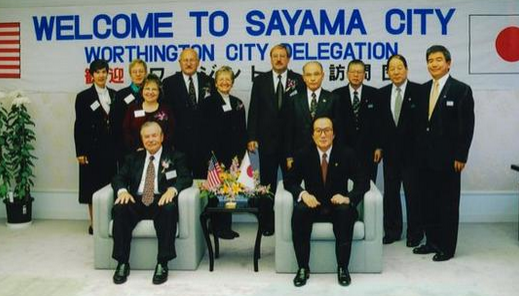 On September 24th a Japanese delegation visited Worthington. Worthington and the Japanese city of Sayama have been sister cities as a part of the Sister Cities International program. Worthington and Sayama have been in good relations since 1993, and the program is behind that. 
In the garage of the Old Worthington fire station in 1993, delegates from Sayama, Japan sipped tea. Japan was in search of a sister city at that time, so they visited many cities in Ohio including Worthington. The Sayama International friendship association (SIFA) sent a request to Worthington to be their friendship city. Worthington accepted as they created the Worthington International Friendship Association (WIFA). Representatives from Worthington visited Sayama in 1994 to bind this friendship. Five years later, in 1999, the two cities signed a sister city agreement. The bond of the two cities has grown tremendously in that time span.
Since the binding of the two cities, citizens of both, including students, city officials, and youth athletes, have visited one another's city. One year, Worthington sent a student from Worthington Kilbourne high school to Sayama to perform in a number of settings and to experience the culture of Sayama. The two cities frequently make cultural exchanges within the other's communities.
The representatives from Sayama most recently visited Worthington this past month. The Japanese arrived on September 24th and stayed until September 29th. During those five days, the Japanese visited public buildings including schools and the fire station. On September 28th Worthington held a reception at the McConnell Arts Center for the delegation. Food was served and musical performances from Worthington Kilbourne's singers and Thomas Worthington's band highlighted the evening.