Are You Aware of Transgender Awareness Day?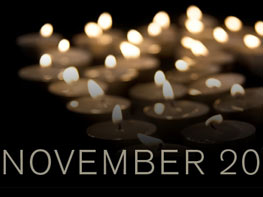 A month commonly known for giving thanks and big shopping deals, is less commonly known as Transgender Awareness Month. November has been named by the Lesbian, Gay, Bisexual, and Transgender (LGBT) Organization as Transgender Awareness Month because of the day that is holds. November 20 is "Transgender Remembrance Day", "a day to memorialize those who have been killed as a result of transphobia, or the hatred or fear of transgender and gender nonconforming people, and acts to bring attention to the continued violence endured by the transgender community" according to transgender day of remembrance. This day was founded by Gwendolyn Ann Smith,a transgender individual, in 1998, to memorialize the murder of Rita Hester. Hester was loved in her community, or so it appeared until November 28,1998 when we was found dead in her Massachusetts apartment with multiple stab wounds. Since 1998 Transgender Day of Remembrance has been held annually worldwide. It started as a web project but has significantly developed since then.
This day is often celebrated with memorials of lost loved ones which may include a reading of the names of those lost in the past year, candlelight vigils, art shows, food drives, marches, and many other acts. According commondreams.org in 2015 the U.S. has set a record high of 21 transgender violence victims. "This kind of violence is often motivated by anti-transgender bias; but that is rarely the only factor," said Human Rights Campaign president Chad Griffin. "At a time when transgender people are finally gaining visibility and activists are forcing our country to confront systemic violence against people of color," Griffin continued, "transgender women of color are facing an epidemic of violence that occurs at the intersections of racism, sexism and transphobia—issues that advocates can no longer afford to address separately." Much support for Transgender Awareness month comes from those advocating for other modern social issues and has caused the month to be an event for people outside of the transgender community.
This is a growing issue with very little media support, but that may soon change. The month of November and Transgender Remembrance Day is a good start to spreading awareness but only time will tell if it will be enough to halt the onslaught of terrible injustice done to gender nonconforming people.