Starbucks Red Cup Controversy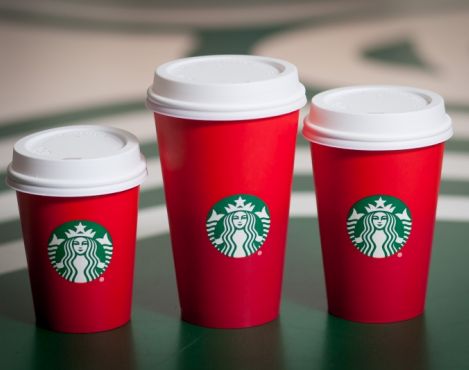 Starbucks recently changed their usual Christmas cup design to just a plain red cup. This has inspired a variety of heated responses from patrons across the country.  This all started out with a comment from Joshua Feuerstein on social media jokingly saying, ¨Starbucks wanted to take Christ and Christmas off of their brand new cups that's why they're just plain red. In fact, Starbucks is not allowed to say Merry Christmas to customers."
"Starbucks has looked like the adult in a room full of screaming children," said Rev. Dr. Joe Blosser, who is the Director of Service Learning and Assistant Professor of Religion and Philosophy at High Point University. Starbucks is the adult because, like an adult, they make the decisions. Customers are being referred to as the children because of their immature reaction.
Many people took the argument to Twitter, making hashtags like #MerryChristmasStarbucks or #BoycottStarbucks. The other half of Twitter are tweeting hashtags like #ItsJustACup, meaning the issue does not concern them. Donald Trump also commented on this issue when giving a speech in Springfield, Illinois, saying, "Do you realize that Starbucks wanted to take Christ and Christmas, off of their brand-new cups? That's why they're just plain red," He also voiced his support for the anti-Starbucks bandwagon by saying "Maybe we should boycott Starbucks. I don't know".
"We wanted to usher in the holidays with a purity of design that welcomes all of our stories." said Starbucks Vice President Jeffrey Fields.