A4 Waist Challenge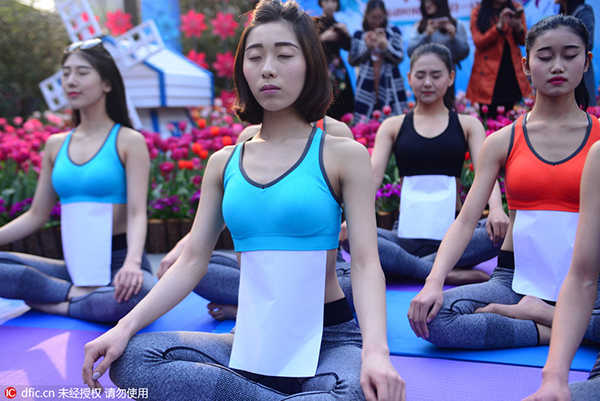 The No Thumbs Challenge.  The Kylie Jenner Lips Challenge. The Glitterbeard Challenge. The A4 Waist Challenge. What do these all have in common?  They are weird, sometimes senseless challenges that have trended on social media in the past year. What makes the A4 Waist Challenge different is that it perpetuates the idea that the size of a waist is important.
The A4 Waist Challenges started on the popular Chinese social media website Weibo, which is much like Instagram in the US.  The challenge is as follows: a woman holds a vertical piece of paper in front of her torso to see whether her waist is skinnier than an A4 sheet of paper. If it is, she can say she's "paper thin."
An  A4 sheet of paper is 8.3 inches by 11 inches, the size of a typical sheet of paper in the US. Essentially, a person's waist would need to be no wider than 8.3 inches – less than length of a ruler – to successfully complete the challenge. Even more, waists are typically measured by finding the circumference. This involves holding a tape measure on the belly button and wrapping it around the waist until it meets the belly button again. The average waist size for American women is around 37 inches. Holding a sheet of paper up to the waist is, by no means, a comparable measurement.

While the challenge is unrealistic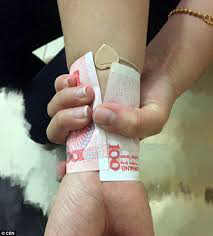 in multiple ways, it does highlight a troublesome issue: people's obsession with image. And the A4 Waist Challenge isn't the only challenge that has spread quickly on social media. Consider the Iphone Knees Challenge in which someone sits and balances an Iphone on the knees to test for skinny legs. Or the Banknote Wrist Challenge when a woman wraps a banknote (like a dollar) around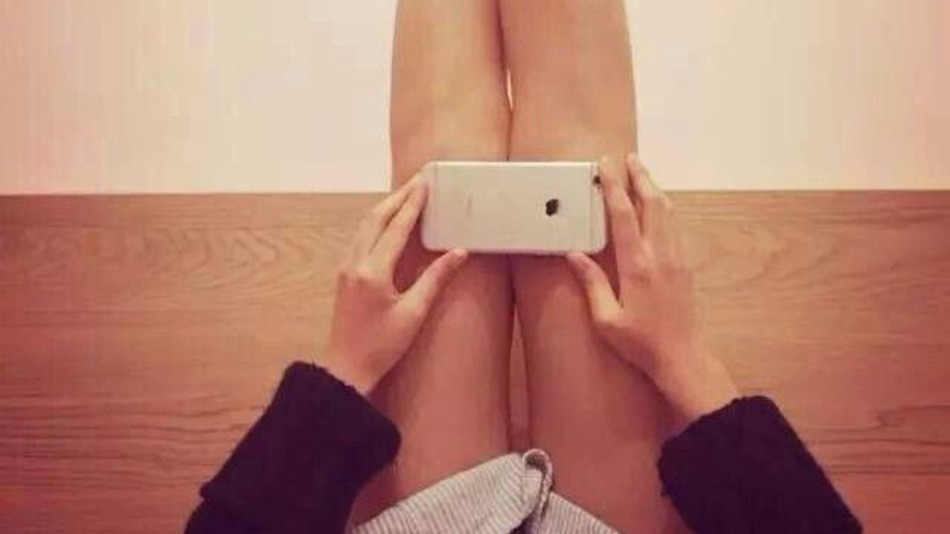 the wrist to see whether the two ends meet.
Luciana Rosu- Sieza, the executive director of the Bulimia Anorexia Nervosa Association, told CTV that there is nothing healthy about this "fitness challenge." 
"Eating disorders have the highest death rate of any type of mental disorder," said Rosu-Sieza.  She is concerned that people will attempt to "fit into that mold of 8.5 inches" by implementing unhealthy eating practices.
Although the infamous A4 Waist Challenge has spread from China to other countries like the US, people are pushing against the trend by posting photos to counteract the body image that it supports. For example, Julia Sherman posted a photo of her college diploma in front of her body with the comment "Here's some old scrap of paper I found hiding in the back of my closet."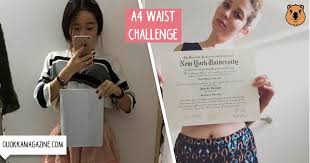 Thankfully, women like Sherman are fighting the "fat-shaming" that challenges like the A4 Waist Challenge suggest.