V.P. Elect Mike Pence "Harassed" By Hamilton Cast
Vice-President Elect Mike Pence was "harassed" by the cast of the Broadway show Hamilton.
Hamilton: An American Musical is an award winning Broadway production depicting the life of Alexander Hamilton.  What makes this musical so groundbreaking is the casting of black and hispanic actors to play roles of historically white figures, including Thomas Jefferson and George Washington. The cast made up of "a diverse group of men and women of different colors, creeds and orientations" decided to deliver a message to V.P. Elect Pence as he got up to leave the show. Actor Brandon Dixon, who plays Aaron Burr, gave the following statement:
"Vice-President Elect Pence, we welcome you and we truly thank you for joining us here at 'Hamilton: An American Musical.' We really do," Dixon said.
"We, sir, we are the diverse America who are alarmed and anxious that your new administration will not protect us, our planet, our children, our parents or defend us and uphold our American values and work on behalf of all of us. All of us"
In response President Elect Trump tweeted that his "…future V.P. Mike Pence was harassed last night at the theater by the Cast of Hamilton…" and in a separate tweet demands that the actors apologize for their rudeness.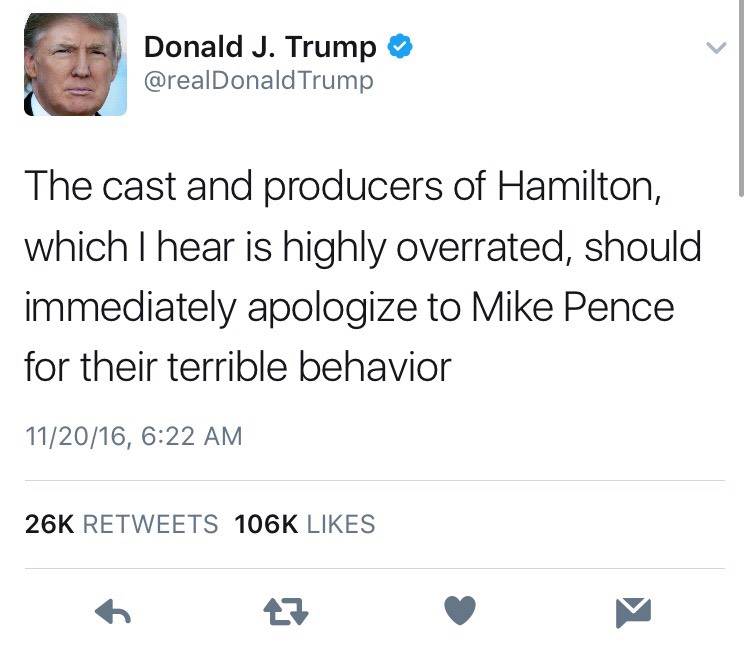 The hashtag "#BoycottHamilton" is being spread around twitter as supporters of Trump have chose to boycott the show by buying tickets to Hamilton and not attending.
View the full video here.