Baseball Is Going for the Title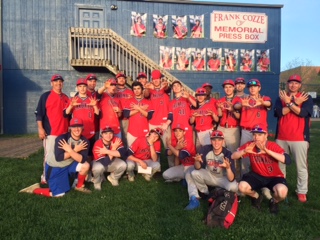 The future's looking bright for the Thomas Worthington's Varsity Baseball team as their very own Trent Castle was interviewed last week for 10 TV News. The TWHS Varsity Baseball team is currently 14-3 overall with a League record of 7-2. Castle leading the way with a 568 BA. Junior and starting pitcher, Spencer Kiehl has already had two no hitters this season and is currently holding a 0.93 ERA. The team took a sweep with two wins in their double header on Saturday.
The afternoon of April 20th was the boys senior night as they faced off against Fredericktown. The starting lineup for the Cards reads as the following; Joey Pishcel at short-stop, Vincent Armstrong at second base, Trent Castle playing Center Field, Andy Caddas DH'd for Junior Niles Mantor who played Left Field, Nick Kendig in Right, Caleb Strewing at first base, Jim Sanfrey Catcher and Jeff Strayer at 3rd base. Senior, Matt Harrison started pitching.  The game was tied up 5-5 until Senior; Andy Caddas came up and hit a walk off grand slam for the Cards. They took the win 9-5. The Cards still face a challenge as Hilliard Darby's Varsity Baseball team is currently 17-3 overall and 8-1 in the League. Darby has two players who have committed to Purdue University in Indiana. While Thomas Worthington's Andy Caddas committed to Otterbein University, Trent Castle has committed to Marietta College, and Caleb Struewing will be playing at Denison University.
The Cardinals have 5 regular season games left, they have to win all 5 to get the league title. Tournaments start in two weeks.