WoTown Showdown or Shutdown?
What does the future hold for the infamous Worthington rivalry?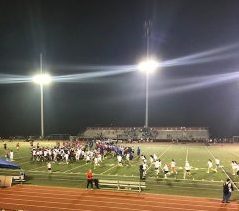 Rumors about the end of the Thomas Worthington and Worthington Kilbourne rivalry have been spreading since the beginning of the school year. They began this fall when football coaches working at Thomas Worthington claimed that the highly anticipated "Wotown Showdown" was coming to an end. As this claim spread, more speculations were made as to why the administration would end the rivalry. 
Audrey Taylor, a senior and Cardinal Crazy, questioned if they thought "it creates too much tension in Worthington and they want to bring the two highschools together." 
According to Thomas Worthington Principal, Pete Scully, these rumors started because Thomas Worthington football and Worthington Kilbourne's football teams will be in different divisions beginning next season. When Worthington high school first split in 1991, the community decided to not play each other in any sports. Eventually, the schools chose to play each other, starting the famous rivalry. 
Katie Rzymek, a senior at Worthington Kilbourne, believes the rivalry game is "a really fun game to watch because each team gives it their all and the whole Worthington community comes out to support." 
The decision in scheduling the rivalry game for the 2020 season after the division switch was up to TWHS and WKHS administration. For many years the rivalry basketball game has been voluntarily scheduled because the teams are not in the same conference. For both games, the administration has to weigh the positives versus the negatives. 
"The students love the rivalry game," Scully said while admitting that "As hard as it is for the adults to manage it, it makes a good experience for the kids, and that's what really matters".